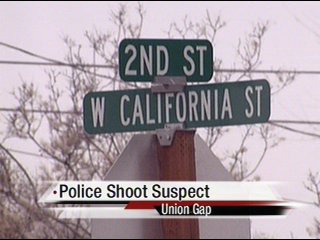 UNION GAP--Police officers shoot an armed gunman in the line of duty.
Union Gap Police Chief Robert Almeida tells KNDO officers were dispatched to the 3800 block of Second Avenue shortly before 11:00 a.m. Sunday. The situation was initially described as a domestic incident, but Almeida was unable to immediately confirm that.
According to Almeida, two male officers shot at the suspect, an armed juvenile, hitting him once in the midsection. The suspect was taken to a local hospital; his condition was not immediately available.
Almeida declined to identify the officers, but said they will be placed on administrative leave until the investigation is completed. Placing officers on leave after a shooting is standard procedure.
Watch KNDO tonight at 6:00 or 11:00 p.m. for more information.
http://www.kndu.com/Global/story.asp?S=11909673